Rimini has some of the best preserved Roman ruins that you'll find anywhere in Italy, with at least three major monuments that you absolutely must see. It's no surprise, given that the city was founded by the Romans (under the name Ariminum) as they expanded their empire over the Appenines and into the Po river plain.
If you're staying at the beachfront, you should absolutely make sure to take a trip into the city centre to check out these important Roman sites.
The Augustus Arch (Arco d'Agosto)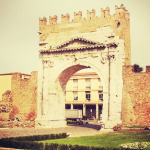 The Arco d'Agosto dates back to 27 B.C, making it the oldest surviving Roman triumphal arch in the world. It was built, by the Emporor Augustus, to mark the pax romana and marked the start of the Via Flaminia, heading straight to Rome. The arch is one of the city's iconic landmarks, though it's in everyday use as people walk and cycle under it into the city centre.
The Tiberius Bridge (Ponte di Tiberio)

Connecting the city to the beautiful Borgo San Giuliano, the Tiberius Bridge is a sight to behold – a thick, solid bridge that is over two centuries old and yet still in everyday use. It was started in 14 AD before the death of Augustus, though finished in 21 AD under the reign of Tiberius. It is one of Italy's most beautiful bridges, built with Istrian marble. A must see.
The Domus del Chirurgo
Rimini's most recent Roman attraction – if that's not a contradiction in terms – is the domus del chirurgo, discovered during excavation work in Piazza Ferrari in 1989. It's the well preserved remains of a second century AD roman villa owned by a surgeon. Nowadays there is a state of the art visitor centre, in Piazza Ferrari, allowing you to walk over glass walkways to admire the amazingly preserved mosaics. Nearby, in the city's museum, you can see a reconstruction of the surgeon's rooms, along with some of the important finds.
The Rimini Anfiteatro
Rimini's coliseum, built during the reign of Emporor Hadrian was a huge building, second only to the Coliseum in Rome, though sadly much of it has been destroyed over the centuries. In recent years a lot of work has gone in to cleaning up the archeological site in Via Roma, and it now plays host to various Roman re-enactment scenes during the summer months.
Arimini Caput Viarum
The resurgence of interest in Rimini's Roman past has led to a new multimedia visitor centre, Arimini Caput Viarum, located on the Corso D'Augusto 235. Entrance is free, and you'll be able to take a multimedia tour, guided by none other than Julius Caesar himself!